I listened to an interesting interview the other day. Bruxy Cavey (from
the Meeting House
) was interviewing science-journalist, author and devout Catholic Denyse O'Leary about her latest book
"The Spiritual Brain: A Neuroscientist's Case for the Existence of the Soul"
[
on Amazon.co.uk
]. Sounds like a very interesting book and I intend on reading it once it comes out in paperback.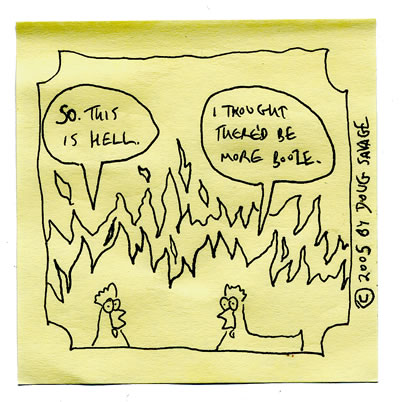 But one of the things she said, which really caught my attention, was her reasoning that hell
must be
a real place. The reasoning went like this:
We

know

the soul is immortal
We

know

we have freewill
Thus, it must be possible for someone to

choose

to have the worst eternity possible, therefore there must be a hell.
Of course, it may be that nobody has ever gone there or ever will, but it must exist.
She was absolutely emphatic on this one and presented it as totally obvious and absolutely cut and dried.
Her reasoning seemed a bit simplistic to me. For a start, while I
believe
that we do indeed have freewill, I don't
know
that for certain. The belief can only be inferred from the bible, it isn't explicitly in there.
Furthermore, Jesus (in Matthew 10v28) says explicitly that there is one (assumed to be God) who can
destroy
the soul and body in hell. If the soul can be destroyed, it can't be immortal. Of course, Jesus asserts the existence of hell in this verse (and others) but the reasoning above can't be used to prove it.